---
Outstanding quality all year round.
Muranaka Farm has been growing fresh, specialty produce for the past 50 years. Staying in tune with the needs of todays consumers, many of our products are now available in Conventional and Certified Organic varieties. Our care and attention to detail produces quality vegetables that meet our own meticulous standards of excellence. This means clean, healthy produce in robust condition.
In addition, we offer extensive custom packaging options. Select the size and form that meets your unique needs. Support your branding strategy or simply deliver product in the specific manner your customers prefer. Muranaka Farm can make it happen.
We operate in multiple regions and are able to raise, harvest and ship our produce in uninterrupted supply to our customers throughout the United States and Europe. From soil to seed selection to harvest and handling, Muranaka Farm delivers superior produce quality and food safety.
---
Packaging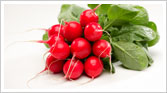 We've developed proven growing, handling and shipping processes while keeping food safety as a top priority.